People Manager Events
We host this event to give managers across departments a chance to get together with staff and management to encourage inter-departmental working.
Our People Manager Event in December 2020:
The workshops were focused around:
Cyber Crime and Fraud
New Ways of Working
Our People Manager Event in October 2020:
The workshops were focused around:
Covid Data & Decision Making
Balancing Home/Work Life
Reflecting on the previous 6 months & challenges ahead for the future 6 months
Communication
Our People Manager Event in June 2020:
We held our first virtual event of this nature on the 17 June 2020. The workshops were focused around:
Notes:
Mental Health Awareness Training:

Ruth wishes to encourage attendance on the mental health awareness and training - stress and mental health still remains one of the biggest reasons for absence in the department, and the current situation is possibly adding to peoples anxiety and stress - including ourselves as managers. 

Equipment for Staff at Home: Corporate guidance is being prepared along with comms to support the process. We request for all staff to complete the DSE e-form, any requirements will be flagged to the relevant managers. We ask that solutions are looked at as much as possible e.g. book under laptop, cushions behind back to support. Staff and managers are able to liaise together to arrange collection of required items from their workstations in offices. As a last resort if they need larger items and cannot remove/transport safely, then as a final resort a request will be able to be submitted to a particular mailbox which will be set up to  request for delivery of the items. All requests will need to be authorised by line manager. Resources for delivery are limited therefore we request these are only submitted as a last resort. Full details should be out in the next week or so. 
What's app Guidance:
E-chats: Health & Wellbeing team are going to be doing an e-chat on working at home with children in the near future for people to share tips, they will send through the information when available.
Feedback on our first virtual meeting:

98% found this event useful

95% would see a future event useful

Topics

most popular for the next event were - Future Working Arrangements & Service Recovery.
Our People Manager Event in November 2019:
This was held at the Selwyn Samuel Centre on the 26 November 2019. The workshops were focused around:
My View

Corporate Manslaughter
Our People Manager Event in May 2019:
This was held at the Botanic Gardens on the 16 May 2019. The workshops were focused around:
Workforce planning 

Health and Wellbeing- Identify team wellbeing priority 

How to create a happy and successful workplace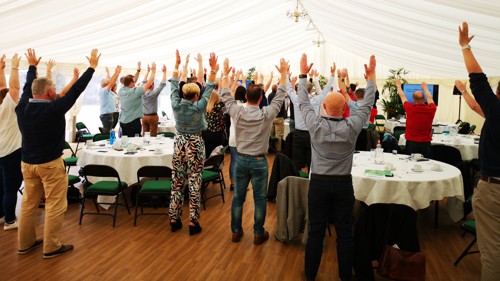 Page updated: 16/04/2021 14:44:28