Choosing a Default Browser
Using Carmarthenshire County Council equipment, you will have access to 4 different browsers, you can use the one that you are most comfortable with but there are certain applications that work best in certain browsers. With this in mind, we have given you full control over what browsers you use and when, with the following recommendations in place.
How to change your default Browser
1. Press start and click "Settings"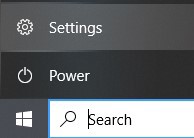 2. Click "Apps"

3. Choose "Default Apps" from the bar on the left

4. Scroll down to "Web Browser" and click it, from here you can choose any browser you have installed.
5. If you want to use "Chrome" for example, and you don't see it in the list, click the "Software Center" Icon on your desktop

6. Find "Chrome" (Or Firefox) and click it, then click again to install.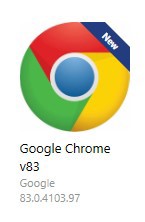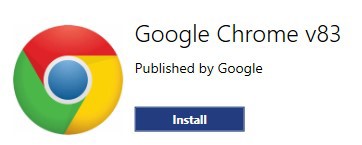 Browsers Explained
Microsoft Internet Explorer 11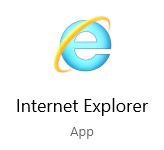 This is the "built in" browser with Windows and the one you are most likely to be familiar with, in newer versions of Windows 10 it is being replaced by Microsoft Edge (See below).
Microsoft Edge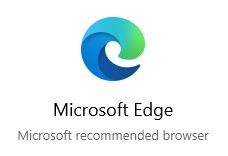 This is Microsofts new flagship browser. There are currently 2 different versions of Edge.
| Browser Name | Browser Icon | Description |
| --- | --- | --- |
| Microsoft Edge (HTML) | | This was Microsofts first attempt at Edge. After 2 years of development it was replaced with Edge Chromium (Below) |
| Microsoft Edge (Chromium) | | In early 2020 Microsoft released "Edge Chromium". Edge chromium will be Microsofts focus going forward and Edge (HTML) will no longer be developed. Edge Chromium is seen as a direct replacement for Edge (HTML) |
We are currently in the processes of moving all current installs to Edge Chromium. If you see the "blue" Icon when loading Edge you are on the "old" edge and you can upgrade to the latest version in Software Center (Located on your desktop). If you see the "blue and green" icon, congratulations, you are on the new version already!
Google Chrome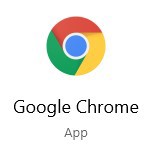 Google chrome is a popular browser from Google. It is currently by far the most popular browser in the world, and at the time of writing, holds a roughly 64% market share. (Source)
Mozilla Firefox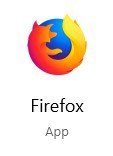 Another popular choice, Firefox is an Open source browser developed by the non-profit Mozilla foundation.
Recommendations
Due to various development and compatibility issues the following is a guide to what browsers are most suited to each of our In-house applications, some apps will appear under multiple headings, you can then use your personal preference.
 

Internet Explorer 11

Microsoft Edge (Chromium)

Google Chrome

Mozilla Firefox

Firmstep CaseViewer

 

 

Recommended

 

Gladstone360

 

 

Recommended

 

Cash Receipting

Recommended

 

 

 

 

Information@Work Enterprise

 

 

Recommended

 

Registrars RON

Recommended

 

 

 

ResourceLink (MyView)

 

 

Recommended

Supported

ResourceLink (WebView)

 

 

 

Recommended

Agresso

Recommended

 

Supported

Supported

Carefirst

Recommended

 

 

 

iWorld

Recommended

 

 

 
Page updated: 11/02/2021 16:43:21