OneDrive
Sharing a document - specific people - block download
OneDrive has the option to restrict the level of access (only people within Carmarthenshire County Council, only people with existing access to the file, or only individuals you specify).  Also, if you opt to disable editing, you can prevent viewers from downloading the file.
1. Navigate to the document or folder that you want to share from your OneDrive.
2. Right click and select 'Share'.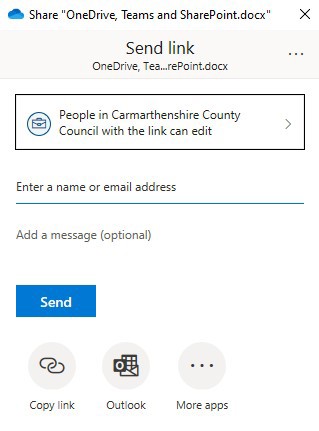 3. 'People in Carmarthenshire County Council with the link can edit' is the default. However, click on the arrow to the right of this to change to 'Specific People'.
4. Untick 'Allow Editing'.
5. Toggle 'Block Download'.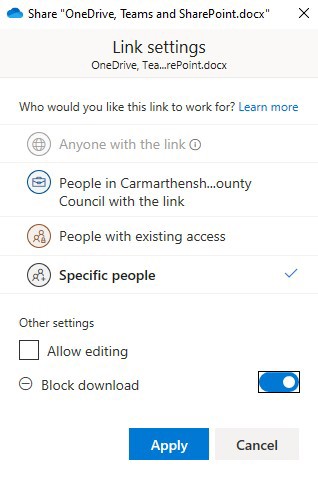 6. Enter the name(s) of the people you want to share with (if internal to CCC) or the full email address (if external).
7. Add a message (optional).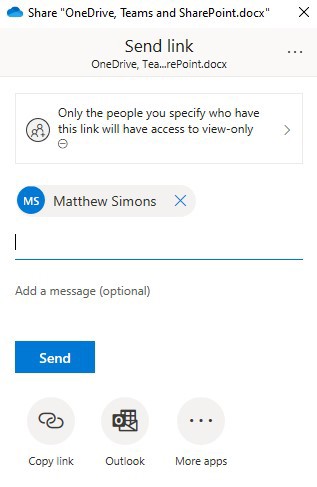 8. Select 'Send'.
When the document or folder is accessed for the first time, you will receive a notification email:

To stop sharing:
Follow step 1 and 2; then
Click on the x3 dots (more options) beside 'Send Link' and select 'Manage Access'.
Under 'Links Giving Access', select the person you want to stop sharing with, then select the cross beside their name.
Page updated: 21/08/2020 17:25:47