Microsoft Teams Meetings and Live Events Recordings
Where are the Teams Meetings recordings stored?
If you have been granted Administrator permissions for Microsoft Stream, then all recordings by default upload to Stream automatically. To view the recording go to Stream > My Content > Meetings.
Stream can be found by clicking on "All Apps" in Office 365 online.
A 30-minute recording used approximately 238mb of storage.
Once the meeting is over you will also receive an email with a link to the recording on Stream.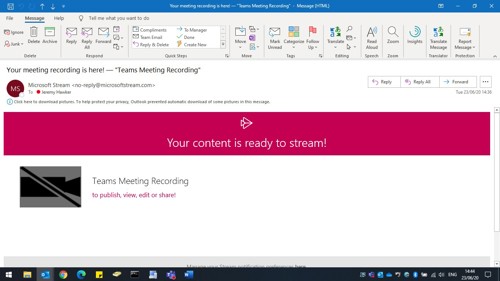 If you have not been granted Administrator permissions for Stream, the Team Meeting recording will not upload to Stream. You will instead be able to download the recording from the meeting chat (as show below) straight into you Downloads folder on your computer.

Where are Teams Live Events recordings stored?
Teams Live Events do not currently automatically upload to Stream but can be uploaded manually.
To find your Live Event recording look in the calendar entry for the event and scroll down to Manage Live Event Resources. You have to download the recording before you upload to Stream.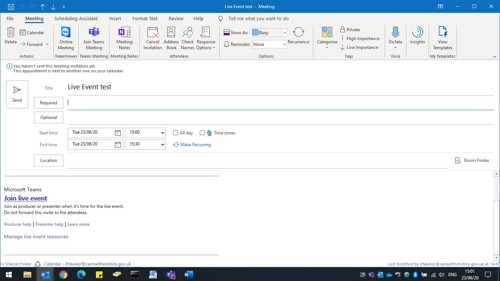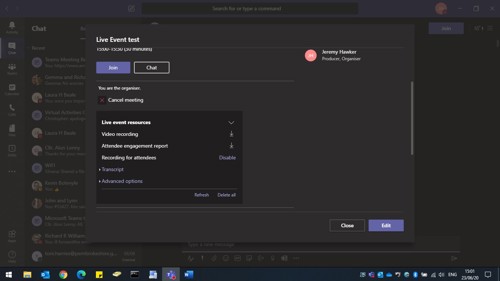 Note: Recordings from live events produced in Teams are currently not saved in Microsoft Stream. You can download the recording from the meeting details and upload it manually to Microsoft Stream after the event. (source Microsoft).
Page updated: 16/07/2020 13:41:16