Private Teams Meetings
When creating a Teams meeting, you may want to make the meeting private. This ensures that users that have not been invited to the meeting, are unable to read the meeting subject in your calendar, and the calendars of all the invited users. It also ensures that uninvited users cannot see the meeting description and are unable to join the meeting via the Teams link.
To make a Teams meeting private, always set the meeting up using your Outlook calendar. Once in your calendar, click on 'New Teams Meeting' on the top banner.

In the Meeting Request window that appears, fill out all the relevant details, remembering to click on the 'Private' icon (this will have a padlock icon next to it) in the top right corner, before sending your meeting request.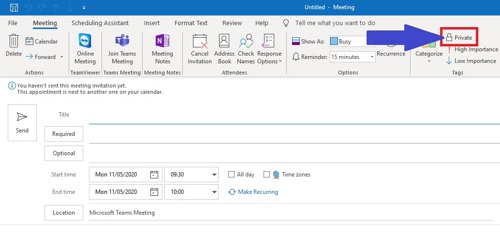 For more information on setting up Teams' meetings, as well as setting up meetings with external contacts, please download the 'Setting Up Teams Meetings' PowerPoint.
Page updated: 16/07/2020 13:41:13