Instant Messaging
Instant messaging (IM) allows you to send text messages to another person's computer or mobile device, messages are received instantly.  IMs can be sent as an alternative to emails. They can be quicker and easier to send and are usually used for short conversations or to ask a question.*
We recommend that you watch this short video tutorial by Microsoft on Instant messaging.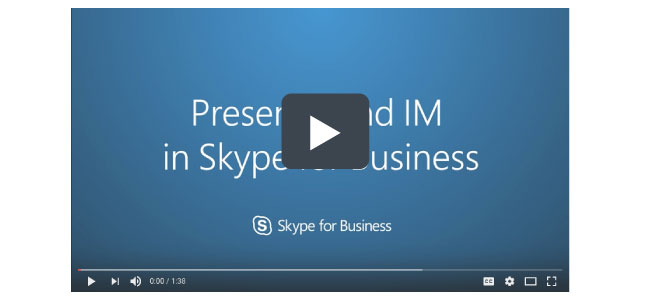 Starting an IM conversation
Ready to get started? You will need to locate the person you want to send an instant message to by finding them either using the search facility or in your contacts list.
Find the search facility on your Skype for Business contacts page, just below the Contacts tab.
Click in the search box and type the name you want to search.
Hover over their picture in the Contacts list and click the message button  on the quick launch bar or double click on their name.
Type your message at bottom of the conversation window.
Press Enter on your keyboard to send the message. You'll see next to each instant message a picture of the person who sent it. This works for both one-to-one conversations and group messages.
How can I add more people to an IM?
You can easily add other people to your conversation. Anyone you add to the conversation can send messages and read any messages the other participants in the conversation are sending.
There are two ways to add more participants either drag the contact from your contacts list and drop them in the conversation window.
Or click the

icon in the top right corner of the IM window and search for them.
*Please note: Our IMs are not logged anywhere so once the chat window is closed all of the content is lost, it is not possible to get back this information afterwards. However it is worth noting that although chats are not logged, it is possible to make a copy of a chat by taking a screen grab or copy and pasting the text in the chat to a word document. Further to this point if you are in contact with federated or external organisations then they may have chosen to log the chat history of their employees, so any IM conversations with employees from organisations of this kind will keep a log of your conversations.
Page updated: 29/07/2020 13:51:11