Setting Up a Virtual Meeting
You can use your Outlook calendar to schedule Skype for Business (SfB) virtual meetings. Meetings can be scheduled with internal and external contacts. Virtual meetings of this kind can save time and travel costs, and in many cases be just as beneficial as meeting in person.
We recommend you watch this short Microsoft video tutorial on how to set up a virtual meeting.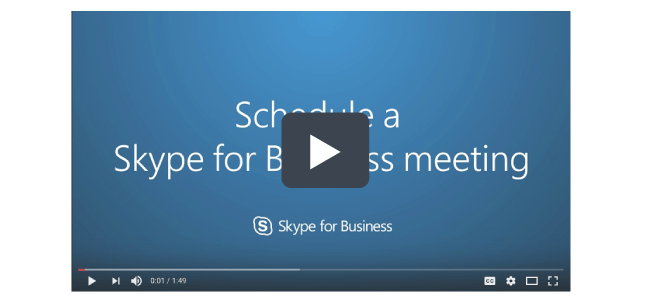 How do I schedule a SfB meeting?
 Open your Outlook calendar.
Click the 'Home' tab in the top left corner.
Click 'New Skype Meeting'.
Complete the meeting request as you normally would, entering the email addresses of the meeting participants and the time and date of the meeting.
Then click 'Send'.
The requested participants will receive a meeting request which they can choose to 'Accept' or 'Decline'.
How do I join a SfB meeting?
At the time of the SfB meeting there are three ways to join:
Option 1: On the Skype application click on the 'Meeting' tab and then double click on the meeting you'd like to join.
Option 2: Open the meeting request in your Outlook calendar and click 'Join Skype Meeting'.
Option 3: Click 'Join Online' when the meeting reminder pops up.
Please note: If meeting participants do not have SfB they will be prompted to download a web-plugin which will allow them to join the meeting.
Page updated: 03/04/2020 13:50:28