What's New on Windows 10
1. New Browser called Microsoft Edge
On your Windows machine you will have a number of Browsers installed:
Microsoft Edge (New for Windows 10)
Internet Explorer
Firefox
Google Chrome

What is a Browser?
A browser is a software application used to access the Internet.  With a Windows machine you will have a number of browsers installed - Microsoft Edge, FireFox, Internet Explorer, Google Chrome.
It may be suggested to use different browsers for certain systems or websites as some systems may not be compatible with some browsers.  Please contact your system Administrator if you are unsure which browser to use.
If you do not have the icon showing on your machine, click on the Search icon and search for the browser you require.  You can then pin this browser onto the desktop as a shortcut (more details below under Windows Search and Pin Function).  If you need to install an additional browser for example Google Chrome, this can be done by clicking on Software Center (icon available on your desktop) - More information can be found here.
2. Windows Search and Pin Function
With Windows 10, you can search directly in the start menu using your keyboard instead of browsing through the list of programs, simple click the "Search" icon (magnifying glass) and start typing, you will then see a list of possible matches. If this is a program you use frequently, you can choose to "Pin" the shortcut to either the tiles on the start menu, or your taskbar (Or both!) so it's there quick and easy for you in the future.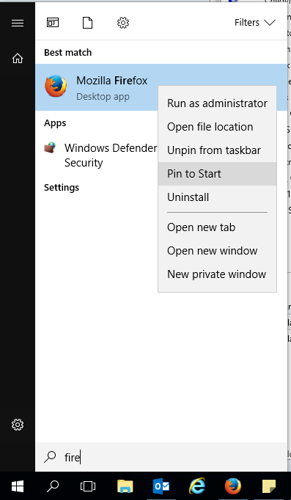 3. Snipping Tool
A handy feature of Windows 10 is the built in "Snipping Tool" – Go to start and search for it and click to run you will see the following program:

You can use this to take a screenshot or a "picture" of an area of your screen, handy if you want to use it in a document such as this one! Click new, and drag the area you want to copy, it will then automatically copy that area to your clipboard for you to paste into a document, or into an editing program such as Paint if you wish to make some changes.
4. Multiple Desktops
Do you find that sometimes you have more than one piece of work ongoing and your taskbar can get very cluttered? Windows 10 allows you to create "multiple desktops" to keep your work more organised. Click the "Task View" button in the bottom left of your screen and click "New desktop" This will give you a clean desktop and taskbar to use while retaining your current one, click the task view to switch between them. Task view will also show you all the windows you currently have open in thumbnail form, allowing you to easily find what you want to work on. 
5. "Snapping Apps"
There may be an occasion where you want to view 2 applications side by side, or perhaps even 2 spreadsheets for example to compare, Windows 10 allows you to "snap" applications to an edge of the screen, click the top bar of the app you want to move and drag it to the edge of a screen, you will see a "shadow outline" of the application appear, let go of the mouse button and the application will then fill that space, you can snap to either the left or right of a screen, snapping to the top will automatically fill the screen. When you snap, you will also see thumnails of any other windows you have open and you can quickly click them to fill the other half of the screen.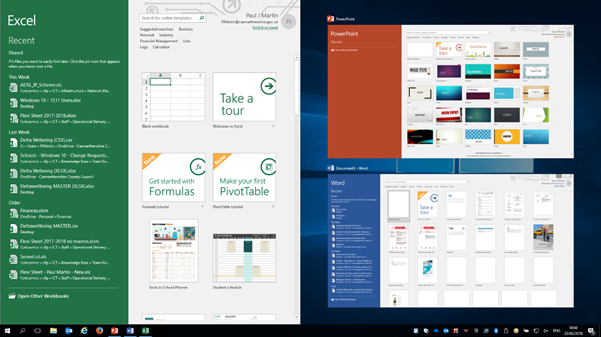 5. Windows Tips
You can also use the built in tool for Windows tips to learn more, this is Microsoft's own way of getting users to get the best out of windows and is frequently updated with new tips, tricks and advice on common and new features, its well worth checking back here every now and again to see what else you can do.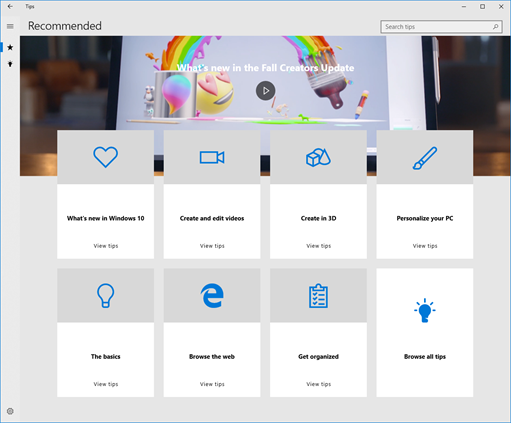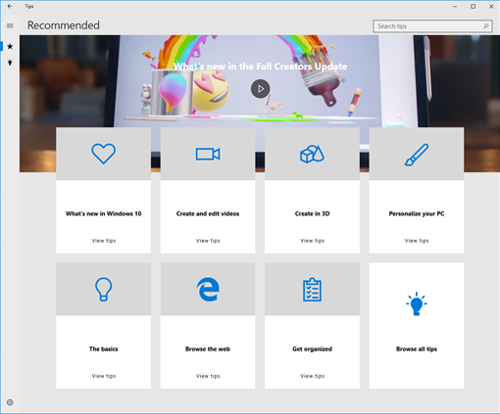 Page updated: 29/07/2020 13:46:06