Department for Communities Health and Wellbeing Achievements
An event was held on the 11th October in the Crochan, Y Ffwrness, Llanelli  recognising employees who make a difference in contributing  to the health and wellbeing of themselves and others whilst at work.  The Communities Departmental Management Team wanted to show appreciation to staff who are passionate, committed, motivational and inspiring to others in creating a positive working environment.  Whilst providing excellent services ensuring we are living and working well in Carmarthenshire. 
The Department asked staff to nominate colleagues that they thought should be recognised.  We received an excellent response, 70 nominations were received in total.   There were 5 categories, with 5 staff members receiving recognition within these categories. The achievements were awarded to staff by our motivational speaker Tina Evans, "Human on Wheels" a 32 year old local lady from the Gwendraeth area, who was diagnosed with Friedreich's Ataxia, a life limiting condition at 16.  You can find out more about Tina on her website: humanonwheels.com. Tina has pushed the diagnosis to the side and continued with life on her own terms continuing to remain positive and get the most out of life, using her wheelchair as a tool for independence rather than a limitation, she constantly challenges expectations and norms about what a wheelchair user can do with their life.
Hopefully Tina has encouraged and inspired everyone who was nominated to continue with their hard work which makes a huge difference to themselves and their colleagues.
A video message from Nigel Owens, International Referee was also shown at the event, expressing his views on the importance of health and wellbeing and congratulating everyone who received a nomination.
The achievers in each category are listed below:
Contribution to wellbeing in the workplace Achievement
Vivienne Jones, Trading Standards Officer, Homes and Safer Communities
Linda Williams, Development Officer, Coleshill, Mental Health & Learning Disability and Safeguarding Services
Catrin James, Sales & Marketing Officer, Leisure Services
Esther Chapman, Performance and Quality Officer, Commissioning Services
Elizabeth Howells, Consultant Social Worker, Substance Misuse Team Mental Health & Learning Disability
Employee Achievement
Alison Rees Specialist Support Worker, Maeslliedi, Mental Health & Learning Disability and Safeguarding Services
Manor Road Group, Mental Health & Learning Disability and Safeguarding Services
Ammanford Library Team, Leisure Services
Joanne Cooke, Conservation Officer, Leisure Services
Maria Thomas, Y Bwthyn Day Centre, Homes & Safer Communities
Managers Achievement
Debbie Edwards, Complex Needs Coordinator, Mental Health & Learning Disability and Safeguarding Services
Janet Scarrott , Team Manager, Integrated Service
Lynne Jenkins, Day Service Manager, Mental Health & Learning Disability and Safeguarding Services
Pembrey County Park Managers, Leisure Services
Helen Smith, Business Support Coordinator, Business Support Services
Commitment to Improving Personal Health and Wellbeing Achievement
Eastgate Running Group
Neil Canton, Attendant, Leisure Services
John Ayres, Environmental Health Practitioner, Homes and Safer Communities
Leeann Cooze, Business Support Officer, Business Support Services
Carina Davies, Business Support Administrator, Business Support Services
Most Influential Colleague Achievement
Angela Phillips, Regional Programme Manager, Integrated Commissioning & Prevention, Regional Team
Pippa Lewis, Social Worker, Integrated Services
Kellie Mclennan, Domiciliary Support Worker, Homes and Safer Communities
Helen Thomas, Cwmamman Day Centre, Homes and Safer Communities
Janet Jones, Business Support Team Leader, Business Support Services
A big congratulations to all and a big thank you to those who nominated colleagues as this event would not be possible without them taking the time to submit a nomination to ensure their colleagues received recognition.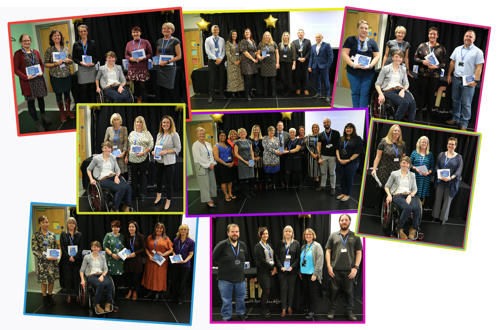 Page updated: 15/11/2019 09:32:23