Working for us
You have joined a pro-active, high performing Council, which aims to provide high quality services and make Carmarthenshire a better place in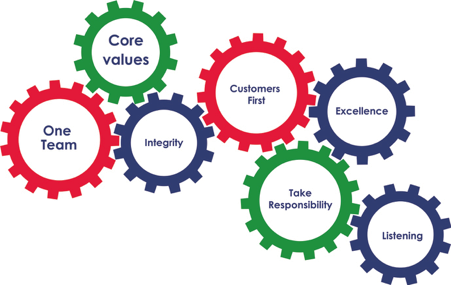 which to live, work and enjoy your leisure time.  We recognise that our ability to provide these services is dependent upon the commitment and dedication of our employees and we aim to provide you with the support you need at all stages in your career.
Carmarthenshire is one of the largest unitary authorities in Wales, and the largest local employer with around 8,300 staff. We have an annual budget of over £586 million, and provide hundreds of services to over 180,000 residents. A capital investment programme also sustains many hundreds of local jobs and businesses.
Our priorities continue to be regeneration; investing in schools through our Modernising Education Programme; and improvements to council houses through the Carmarthenshire Homes Standard initiative.
Responsibility for policy making lies with 74 elected members. Carmarthenshire operates a Leader and Executive Board model with the Administration formed through an alliance between the Plaid party and the Independents group. The Executive Board, which comprises of 10 councillors, including the Leader and two Deputy Leaders, all with specific portfolios, develop and implement Council policy.
Most councillors [apart from Executive Board members] sit on one of the five scrutiny committees. Other committees include planning, licensing, standards and audit.  There are five directorates – Chief Executive's; Education and Children's Services; Environment; Communities and Resources.
Carmarthenshire is a bilingual county, and in the 2011 census some 46% of the population were recorded as speaking the language. There are more Welsh speakers in Carmarthenshire than in any other county in Wales and the language is an important aspect of the history and culture of the county.
We have achieved the Investors in People standard. We are committed to learning and development to support employees to develop their skills, and offer a range of benefits and working arrangements to help people achieve work/life balance. We recognise and encourage initiative, excellent work and standards, we are committed to communicating and listening to staff, and to promoting equality and valuing diversity.
We are also part of the Public Services Board with other partners working together to improve the well-being of our county. The Public Services Board is made up of four statutory organisations. This includes Carmarthenshire County Council, Hywel Dda University Health Board, Mid and West Wales Fire and Rescue Service and Natural Resources Wales. There are also several invited participants including Welsh Government, Dyfed Powys Police, Dyfed Powys Police and Crime Commissioner, CAVS, Department for Work and Pensions, Coleg Sir Gâr, University of Wales Trinity Saint David, National Probation Service, Community Rehabilitation Company, Brecon Beacons National Park Authority and the Arts Council of Wales.
Page updated: 28/04/2022 16:46:24