Investors In People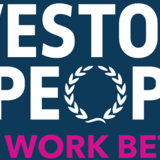 Investors in People (IiP) have been making work better for organisations across the world since 1991.
IiP is a recognition that an organisation looks to improve performance and realise objectives through the management and development of its people.
We have been an Investor in People since 2009 and it has been a useful tool for us to monitor the progress of our organisation.  It has formed the basis of the People Strategy, and as we move to the New Way of Working we can see that the Standard provides us with an objective way to engage with staff and monitor progress.
We are now looking for 10 new IiP Champions to help us achieve the next level of the IiP standard in October 2022.
If you like meeting new people and have good listening skills, then this is for you.
We want you to help us find out how we are supporting staff by exploring the three key themes of the Investors in People Standard and help improve the way we lead and manage people:
Leading, Supporting and Improving.
We will support you every step of the way to become an IiP Champion.
If you are up for a new challenge and would like to find out more, sign up to one of our 'Discovery' sessions by emailing learninganddevelopment@carmarthenshire.gov.uk
16th June - 1.30pm - 2.15pm
20th June - 1.00pm - 1.45pm
22nd June - 11.00am - 11.45am
Page updated: 27/07/2022 14:05:09