Group Sessions
Group sessions are beneficial when a difficult situation is negatively impacting on more than one of your employees. This may be in times of change or uncertainty, such as restructures in the organisation or inspections within schools; as well as incidents within the workplace.
Group sessions aims to afford your staff with the skills to be able to better manage and cope with the difficult experiences they may be dealing with at that point in time. 
Before submitting a request for any group session for you and your team. We would first urge you to read the following:
If an incident has occurred, most individuals will have an initial reaction be it shock, or a bereavement response etc. It's important to acknowledge that these feelings are normal and natural and don't necessarily require instant intervention. However, we would advise that you keep in regular contact with your team and if concerns persist please do not hesitate to submit a request
If your team morale has been affected due to restructure/reorganisation etc… a good place to start would be to undertake the Individual Stress Assessment with each of the team and address any outcomes, where possible. If following this, further support and targeted interventions would prove beneficial please complete the Group Session Request form below:
If formal proceedings are in progress i.e. Capability/ Disciplinary/ Grievance etc… please ensure that you have consulted HR and sought their support on the matter prior to submitting a group session request.
Did you know there are many helpful tips for looking after your own and your teams wellbeing on the Looking after your wellbeing page.
If you believe that a group session would benefit your team, please submit a request form below. We ask that you provide as much information as possible in order for our practitioners to create a bespoke session for you and your staff. 
All costs for Group sessions can be found on our Fees page, alternatively if you are a school these will be set out in your SLA document.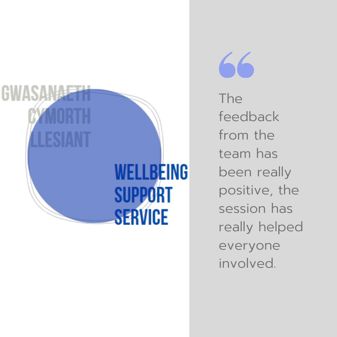 Page updated: 17/11/2020 09:46:09