Windows Security Updates
As part of PSN compliance we are obliged to keep all of our workstations up to date with the latest Windows and Office security patches, these are released by Microsoft on the second Tuesday of every month (Commonly referred to as Patch Tuesday)
When will my workstation receive these patches?
Whilst patches are released on the second Tuesday of every month, they then go through a testing process within IT, followed by a selection of random test machines before being deployed to all workstations, because of this, there is commonly a 7-day delay between Patch Tuesday and patch deployment to your workstation.
*Important - Failure to restart your device after 7 days will trigger a mandatory reboot, where you will be prompted to save your work.
Do I need to do anything?
No, the patches will install silently in the background after 3pm on the day of deployment. If the patches require a restart, you will be notified of this, however it is optional and if you choose not to restart, the patches will finish installing the next time your computer is shutdown/restarted.
If you are experiencing performance issues after receiving patches, it's recommended you restart your machine as this will often resolve the issue.
FEATURE UPDATES
Why do we need to install feature updates?
Microsoft regularly release "Feature Updates" for Windows 10 to improve performance, update software and address any security issues. These are usually on a 6-monthly basis and as part of our Licencing agreement with Microsoft we are expected to keep up to a certain standard. We will begin the rollout of the latest feature update shortly to bring all Windows 10 devices up to date, with a view to update annually thereafter.
What you need to do

You will soon see an update available in Software Centre, this will be available for you to install in your own time, depending on your Internet speed when working remotely installation can take up to 2 hours but is often much faster, so please prepare to run this during a time when you will not need your device. It is advised that you run the update last thing before you leave for the day. To do this, click in "install" button then simply lock (Do not logout) your device.
How feature updates will automatically install
Over the coming weeks we will be targeting Windows Devices on a site by site basis which require the Featured Update, with this you will find that if you connect to the network at any corporate site, the update will download silently in the background.
After the update has been downloaded to your device, you will receive a prompt to restart the device for the changes to apply (We would advise you to restart your device at the end of the day to allow changes to apply).
How to install manually in your own time
1. Open Software Centre from the icon on your desktop, and click "Updates"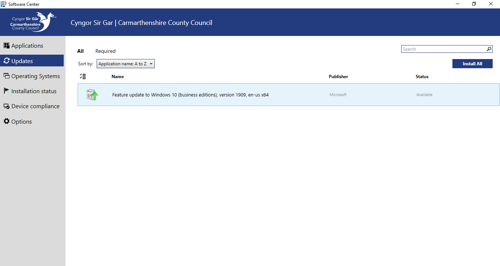 2. Read the warning, and when ready, click "Install"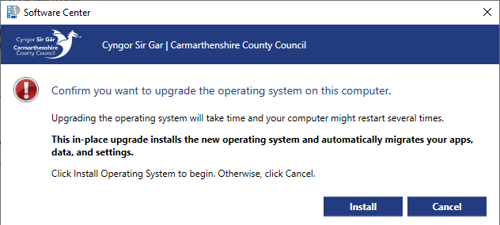 3. Software Center will now download the required files and begin the upgrade, you do not need to do anything else from this point.
Page updated: 27/03/2023 10:54:07